Vaishali S takes the Parisian catwalks by storm, once again!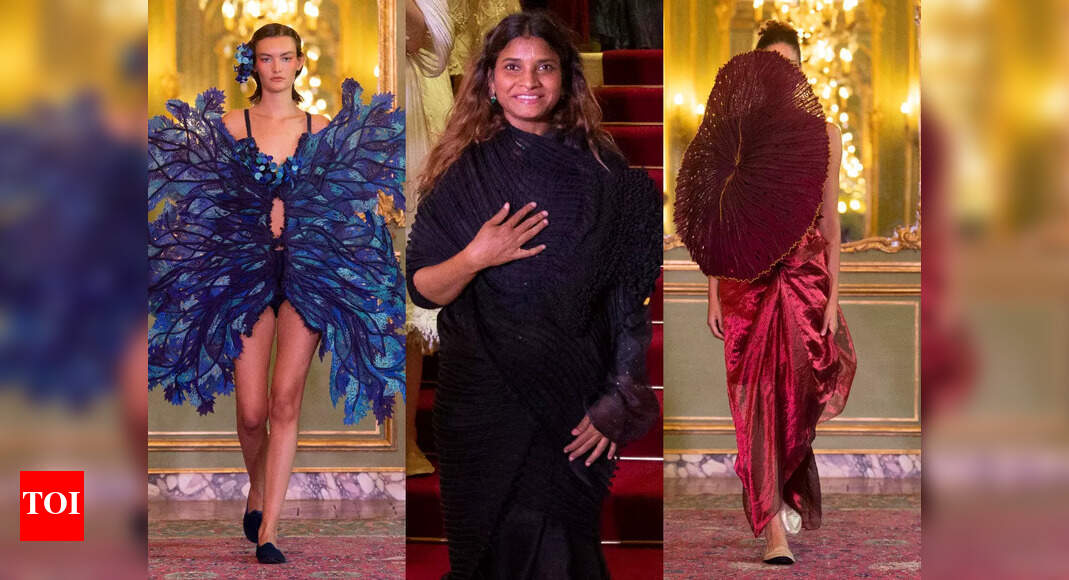 Vaishali S Couture returned to the coveted Paris Haute Couture Week with her latest Rutva collection. The collection takes its name from the Sanskrit word for seasons and is an ode to "moments of [the four] the seasons come together. Through her continues an exploration of her continued adoration of nature and its place in our lives. According to the designer, it celebrates every little detail of nature – from the warm tones of summer to the deadly stillness of serene winter days.
Rutva also sees an evolution in Vaishali S' signature style. Its signature stringing technique finds new expression as the brand ventures into navigating 3D and 4D garments. This uniqueness can also be seen in the fabrics and materials she used for the collection – merino wool, pashmina, khadi and sumptuous West Bengal silks. Each piece in the collection demonstrates the brand's commitment to sustainability, with an emphasis on traceability through technology.
We spoke to the designer about her second stint at Paris Haute Couture Week and how different it was for her from the first. Here is an excerpt from the interview.
Tell us about the collection


VERSUS: Paris Haute Couture's collection of the week contained very fine hand-woven merino wool, transparent silks from West Bengal and, for the first time, a full-fledged Pashmina from Ladakh, which we traced on blockchain for more transparency to our customers on his sustainable journey, and to the people who worked with us on this project. I presented 32 looks divided into 4 groups, and the four costumes of Francesca Dario, the dancer. This time, our collaboration with VIBRAM brought flat shoes, again with recycled soles. The idea behind it and the whole collection was that you can still be comfortable even if you're dressed for Haute Couture (as nicely covered by Jennifer's Premiers Bulletins France).
What inspired your collection this year?


VERSUS: The inspiration for the collection are the Four Seasons, and how Nature follows its unchanging course and is able to give us its fruits, then go into a kind of death meditation only to come back and bloom even stronger. Each season has its beauty and its colors, each season has a different interpretation of all the arts, whether visual/fashion, or performative with Francesca Dario's OCDP dances. This constant flow remains focused on sustainability with handlooms and community impact, with recyclable materials with VIBRAM, and more.
This is your second consecutive year at Paris Haute Couture Week. What does it do?


VERSUS: The presence in Paris this year had a lot of different meanings from last year, so it was a bit more complex. At the same time, while last year was the first excitement and the race across countries to join Paris in covid confinement, this year I knew perfectly well what Paris expected of me, and what is expected of me. a Haute Couture show, then the approach was more structured and complex, while creativity was unleashed more freely. I cannot fail to mention the fact that I was personally welcomed by HE Mr. Jawed Ashraf, Ambassador of India to France, at his private residence, which aroused various feelings: warm support, immense responsibility towards him and the Indian know-how that we thus officially represented, pride to highlight as an Indian excellence, a happiness for this recognition.
What's new in terms of design and weaving that you've incorporated this season?


This season, I presented for the first time the Ladakh Pashmina in Haute Couture, spun and woven by hand, and with full traceability through the blockchain. In due time, all stakeholders in the process will get their recognition and proper remuneration. In terms of designs, you can enjoy more varied dress lengths, more extreme silhouettes. One more step to break down the boundaries of drapery towards a more complete representation of nature and its flow of energy.
Tell us about some bridal trends that will be all the rage this year?I think the general trend to be more conscious will somehow be reflected even in bridal wear. Therefore, I am looking forward to the new season, because I have always believed in outfits that are modular and can be broken down into two or three pieces which can then be combined with several everyday clothes for different types of occasions, allowing people to use long time and recreate memories.

Proof of this is that we have just been highlighted by Elle.com France in the top 5 bridal inspirations of the week.