Review of Adèle's album "30"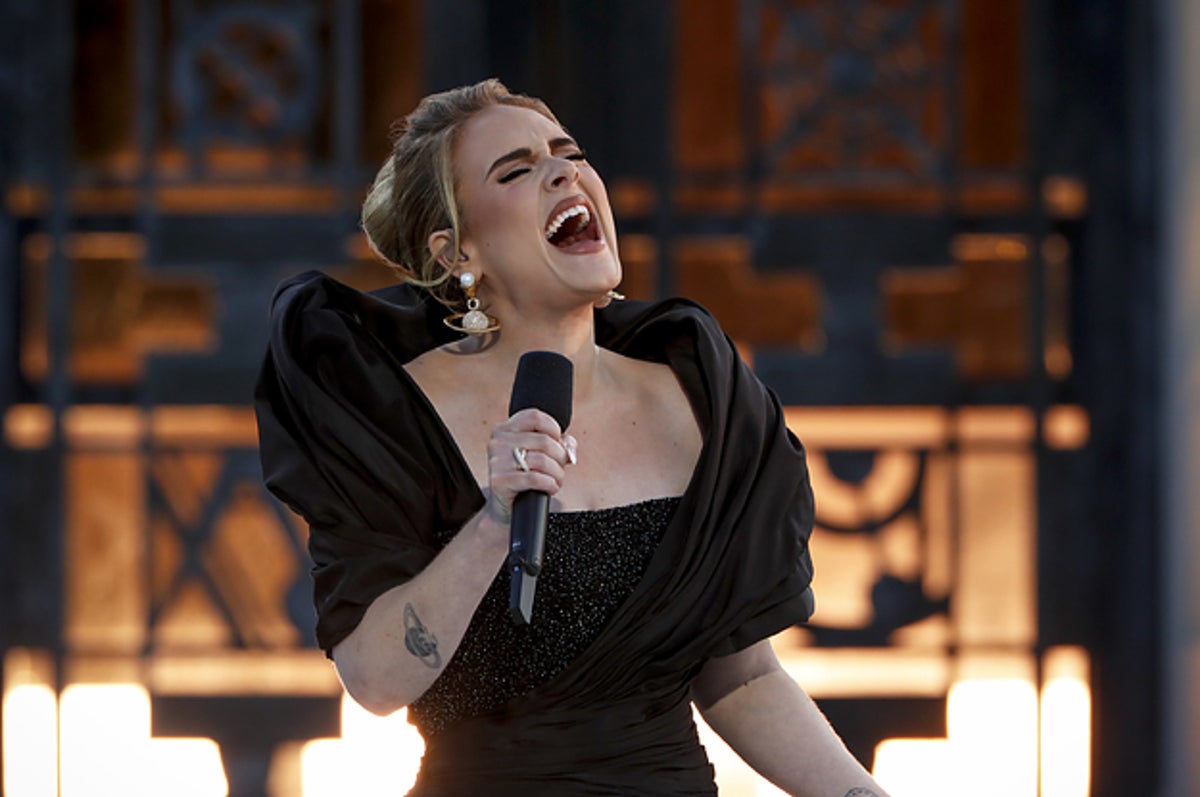 Less than 30 seconds after Adele's 73 questions, a popular video series from Vogue, the singer clearly explains the reason for the interview. "How's Adele doing these days?" Joe Sabia, the interviewer and creator of the series, asks. "I'm awesome. I'm really great. I'm excited. I'm about to release my new album," Adele says. "And I guess that's the thing that you're most passionate about in life right now. Sabia adds – but before the statement completely leaves her lips, Adele quickly intervenes: "It does. And that is why you are here. "Her face has an expression that seems to say Why else would I do this? before immediately finding a bright and warm smile.
Now that 30 – the best work of her career to date – came out on Friday, it's easy to see why the reluctant celebrity Adele was involved in such a focused media blitz. t. At the beginning of October, she became the first person to grace the covers of American and British Vogue the same month, with accompanying profiles of two different writers and exquisite photo ops by veteran photographers Alasdair McLellan and Steven Meisel. Next came a cover of Rolling Stone and Adele's very first Instagram Live; She answered questions from fans about her new music, then sent everyone into a frenzy when she performed a sample of her brand new single "Easy on Me" ahead of its mid-October release date.
But the event that really heralded his much-anticipated comeback was the Sunday night CBS special, titled Adele: One night only. Ten million people watched the singer give a revealing interview to none other than Oprah. The program alternated between intimate moments in Oprah's rose garden and a pre-recorded live performance at the Griffith Observatory in Los Angeles. The singer was dressed in a custom black Schiaparelli haute couture gown, and the special was complete with stunning views of the city as the late evening turned into night. A list of prominent celebrities in attendance including Lizzo, Drake, Tracee Ellis Ross and Melissa McCarthy. During the interview, Adele opened up about her divorce from Simon Konecki, the toll of their separation from their 9-year-old son Angelo, his changing physical appearance and, of course, the new music.
A promotional tour is by no means a new endeavor for a celebrity, but the way Adele chose to lead her public re-emergence speaks volumes. "I mean, I kind of have to prepare myself to be famous again, which I don't really like to be," Adele told British Vogue. In one sentence, the typically ad-shy singer embodies her approach to the celebrity machine. She understands that it's an act, a performance, that she doesn't like to do and in which she excels. "I have the upper hand. I love it, "she says in that same interview, explaining how she likes to play with the press. Adele was already approachable, but as she progresses in her career, she has mastered the art of providing audiences with just enough information to meet the demands of being a star without compromising herself or her craft in the process. Impressive, with 30, a revealing and emotionally charged album, she managed to draw the line between accessibility and mystery, while keeping people's attention on what matters most: her talent.
When "Easy on Me", the first single from 30, made his debut, I admit that I was not impressed. This Adele seemed a lot more sober than past iterations. The song lacked a memorable melody, and after waiting six years for new music, I was dissatisfied. A big up-and-coming song like "Hello" is what I craved emotionally, something I could dramatize while getting drunk on a karaoke outing. But the decision to go against fans' expectations was a deliberate one. "This song catapulted me to fame on another level that I don't want to duplicate," Adele told American Vogue. "I'm not saying I have 'Hello' in my pocket. I was just aware that I didn't want my story on this album to sound like that. In an Apple Music maintenance with Zane Lowe she talked about making music for "the 30's and 40's who all get involved for themselves and go to therapy." She added: "It's my vibe." Adèle knows herself. She doesn't need a gadget for her music to reach people, and she is acutely aware, especially at this point in her life, of what she does and doesn't want. It was this fearless dedication to herself and her own happiness that led her to somehow surpass herself with 30, which is lyrically devastating and sounds more interesting than anything she has ever done.
Take "Strangers by Nature", which opens the 12-track album. It's a dreamlike song, with gorgeous strings that woo the ears like a lullaby, reminiscent of something you might hear in a 1960s Disney musical. Produced by Ludwig Göransson, it's actually a tribute to Judy Garland . There is a feeling of majesty and emotion, with lyrics like "I will carry flowers to the graveyard of my heart / To all my lovers, in the present and in the dark". (Adele told Rolling Stone that the track was her way of conceding that she could be a "hot mess sometimes.") The song ends with a signal that she's ready to bar her soul. "Okay then," she said. "I'm ready."
From there we move on to "Easy on Me", which has grown in me since its performance during the Only one night special. In interviews, Adele has described how difficult it is to find the strength to divorce her husband, and how afraid she is of what others might think. Between that and the musical and lyrical context of the album, this song really resonates. The album does not give up and goes directly to "My Little Love", dedicated to his son. It leans more R&B than the other tracks and includes intimate vocal notes. "I wanted you to have everything I never had / I'm so sorry if what I did makes you sad," she sings. A brilliant chorus that reflects the weight of her decision: "I'm hanging on (Baby) / Mama has a lot to learn (It's heavy)."
"Cry Your Heart Out," a hard-hitting banger with incisive lyrics written by Adele and record producer Greg Kurstin, whom she worked with on "Hello" in 2015, recalls "Right as Rain" from 19. "I created this storm / I just have to sit in its rain," she sings, a line that captures the all-too-real feeling of wallowing in misery of its own making. It is followed by "Oh My God", an upbeat song co-written with Kurstin in which Adele voices the complications of her new romantic relationship. It's a funny song, a song where it expresses both sensuality and recklessness: "But I'm still out of control of the fall / Boy, you give me good love, I won't lie / It ' is what keeps me coming back even though I'm terrified. "
Adele stretches in an incredibly refreshing way, like on Max Martin and Shellback's bop "Can I Get It", one of the album's many standout tracks. Others include "All Night Parking," featuring a piano sample from the late jazz composer Erroll Garner, an evocative number about rediscovering what it's like to fall in love with someone again: "Every time you send an SMS, I want to take the next flight home / And dream next to you all night long. Just like the feeling of falling in love, the song, the shortest on the album, makes you want more. The last three tracks are also superb. "Hold On," which she debuted on Sunday's special, has a beautiful and haunting chorus. "To Be Loved," which Adele posted to her on Twitter Thursday, It's awesome. She never sounded better or pushed further (wait until you hear the end), and it's hard to imagine walking through the ballad without shedding a few tears. The album ends with "Love Is a Game", an instant classic worthy of a great romantic love story – with yourself.
There aren't any bad songs on the album, but a few, like "I Drink Wine" and "Woman Like Me", failed to make a big impression. Narratively, the pieces make sense. The first is "to get rid of your ego," she told Rolling Stone; the latter attacks an ex-lover. Although the two songs weren't musically favorite for me, what I liked were the lyrics; they really nail 30themes of research and redefinition. "Why am I obsessed with the things I can't control? / Why am I seeking approval from people I don't even know? She sings on "I drink wine".
There is something special about being in your 30s; it's a time when you really consider what you want the rest of your life to be like and put to bed old and unnecessary notions of what it's supposed to be. Adele sincerely opens up about her own life and conflicts during this defining decade, highlighting a range of emotions – sadness, anger, hope – while consistently sticking to her own rules. "I feel like this album is self-destruction, then self-reflection, then kind of self-redemption," she said recently. "But I feel ready. I really want people to hear my side of the story this time. ●