Couture by Tess Team scheduled for National Bridal Market Chicago Summer 2022, Business News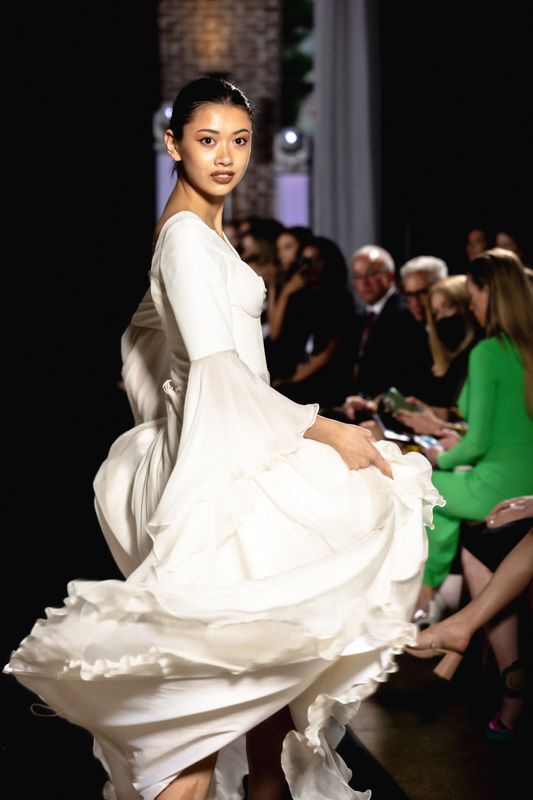 Chicago, Illinois, USA – August 22, 2022 —
Tess Mann, fashion designer for wedding dress brands Couture by Tess and Tess Mann Haute Couture, and her team prepare to present at the National Bridal Market Chicago August 28-30, 2022 at theMART in Chicago, Illinois. The latest collections and styles will be on display in the Mann space inside booth #2073. The Couture by Tess team planned an elaborate facade for their space layout similar to a mini-boutique complete with plexiglass walls and entrance door. Once inside, fashion shoppers and guests will have access to these two unique levels of Tess Mann branded creations, couture and haute couture, up close and personal.
Upon submission of the dress design to the executive staff of the National Bridal Market Chicago, Mann's designs were accepted to showcase the latest styles from the runway scheduled for Sunday, August 28, 2022 at the event that evening. The goal of this effort for labels is to connect with 5-8 luxury wedding dress stores for placement. Mann is strategically interested in placing her line in bridal boutiques located in major metropolitan cities such as New York, Boston, Chicago, Dallas, Atlanta, Miami, and Los Angeles, among others. Buyers at National Bridal Market Chicago who sign on with Tess Mann's label will be treated to a great introductory offer. This offer includes a 5% discount if 5 dresses are ordered and a 5% discount for 10 dresses ordered plus free shipping, which is truly a giveaway once retailers recognize the sheer weight of these extravagant dresses. Import fees are also included, making this an incredible opportunity for a few discerning, hand-selected, and lucky wedding dress shops.
"The National Bridal Market Chicago is the number one choice for wedding dress designers in the United States. Centrally located in the United States, it is the perfect forum for bridal boutique owners and merchandise buying agents to travel, meet and review bridal collections from around the world. The event attracts a large number of international designers as well as US-based designers. Market staff properly vet all designers wishing to present their label to ensure that the caliber of the bridal product is up to the exacting taste of bridal boutiques known to frequent the event. I jumped at the chance to launch my couture and haute couture collections in Chicago as well as show my collection to US based bridal boutiques to see and fall in love with our latest designs. We are delighted to announce that we will be one of the featured designers in the fashion show taking place on Sunday, August 28, 2022," said Tess Mann, Chief Designer and Owner of the Couture by Tess and Tess Mann Haute Couture brands.
Fashion Community Commentary
"We were honored to attend the Couture by Tess fashion show in Nashville, Tennessee recently and were truly amazed by the variety of dresses that paraded down the runway. Nods to different decades kept the crowd in edge of their seats. We personally fell for statement sleeves and a silky dress with a flowing cape in the back. Watch out Music City, Nashville could become Couture City thanks to designers like Tess Mann," say bloggers Abigail and Emily Bache fashion at Wanderlust Girls and creators of AMATOSTYL E.
"Tess' creations are truly unique. The quality of the dress is unmatched and the style is so unique. Not for the cookie-cutter bride," says Bridgette Martin, owner and model scout for Premiere Model Management.
SHOW LOCATION, DATES AND TIMES
Location: theMART, Chicago
August 28-30, 2022
Sunday: 9 a.m. – 5 p.m.
Monday: 9 a.m. – 6 p.m.
Tuesday: 9 a.m. – 3 p.m.
Full List of Designers / National Bridal Marketplace Chicago August 2022
(via www.nationalbridalmarket.com/august-2022-designers)
A
Aaron Michael
Advanced Packaging/The Garment Bag Company
Alana Rose Bridal / Athena Prom
ALETA
Alexander of Daymor
AliceParis
Amalee Accessories
AMARA
NEW! bridal angel
Anne-Barge
Bridal Anny Lin
Bridal Veils Ansonia / Elena Designs
ARIA /Oliver Martino
Ariamo Fashion Group
Ariel J Married
Ariel Taub
Ashley and Justin
ASHLEYlauren
Ashely Nicole Designs
Athena's Ball
Ava Presley
B
Badgley Mischka Bridal Shoes
BBL systems and solutions
BB TAYLOR
Beker Modes
Bel Aire Wedding
Bridal happiness
Blush group
Bridal Collective
Bridal Arrangements by Carrafina
BridalKare Dress Preservation
bridal live
UK Bridal Wholesale
VS
white calla
CAPRI SPOSA
Carraffin
Casablanca Wedding
Cecile Couture
Classy nostalgia
Clarisse
John Colby
Dress Colors
Coterie Blanc
Sewing by Tess
gold crystal
Cristiano Lucci
D
Dave and Johnny
Blossom Collection
Demetrios
Design by Design
Dominiss
Dovita
DS Wedding
E
Elena Morar
Elisabetta Polignano
Bridal Elissar
Elizabeth Lee
Elly haute couture
Emilie Shalant
enVogue Bridal Accessories
EP stars
Erica Koesler Wedding Accessories
ESME private label
Bridal Evelyne
F
Faviana
Feriani Couture
Ferreiera del Melo CA LD
Bridal Feya
Fiore Couture
g
Geno's Evening Dress
Georgina Rose
Great Lakes Wedding Dress Specialists
H
Halima Grine
Hannah Hill Bridal
Direct hangers
Hayley Paige Bridesmaids
Heirloom Bridal Company
I
Icon of Alexander
J
JL Johnson brides
Jadore evening
Janique NYC
Jasmine Wedding
Jasz Couture
Married Jaxie
Jenny Yoo
Jessica Couture
Jessica McClintock by Clarisse
Jimme Huang
Jim's evening dress
John Paul Ataker
Johnathan Kayne
Jovani
Julie Vino
Justina McCaffrey
Jessica McClintock by Clarisse
K
Kanali K
Kennect
Kenneth Winston
Kitty Chen Couture
L
Calla Blanche's love
Wife
The Pearl of Calla Blanche
The Premiere x Dimitrius DALIA 2023
The Premiere x Idan Cohen 2023
The Premiere x J'Aton 2022
The First x 2023SS Couture
The First x 2023FW LUXURY
The First x 2023SS White
Landa Drawings
LARA
Imperishable memories / ESME
Lazaro Bridesmaids
Lee Roski Ltd.
Lisa Simon
Ways of tradition
Son of Lotus
Lucci Lu / Abby Paris / Abby Lane Bridal
luxury and love
M
Mac Duggal
Mrs. Burcu
Madi Lane Bridal / Evie Young
Drawings by Maggie Sottero
Marie-Anette
Marionat The Bridal Veil Company
Maritza Bridal Veils
Michela Elite
Michela Ferriero
Bridal Mikaelle
Miss Allaneous
MNM Couture
Fashion
Mommy and Me by Mac Duggal
honey
Monique Loretti
Monsolo Couture
Moonlight Val Stefani
MS Fashion
NOT
National Association of Wedding Retailers
Nicole Bakti
NEW! Nicole Milano
Nina Canacci
NEW!! Novia by Julio Designs
NOVIAS
O
Olivier Martino / ARIA
Oksana Muhka
P
Paloma Blanca
PARIS by Debra Moreland
Paul Rehki | 9117
Peanut Butter Collection
Pollardi Fashion Group
poppy wedding software
Portia and Scarlett
high-end wedding factory
Primavera Couture
R
Ragazza Fashion
Randy Fenoli
Renee Grace
Ricca Sposa
FASHION RITA MADE BY ITALY
Robert Bullock's Bride / Augusta Jones
S
Sarah Alouache
sassy south
Sherri Hill
Silver Moon Collections
Bride Sophia and Camilla
Sophie Thomas Designs
Stella Couture
Sydney's Closet
SVO
J
Drawings by Tania Olsen
Tarik Ediz
Terani Couture
Rickie Freeman's Teri Jon
The Modest Bridal Collection by Barbie
Ti Adora by Allison Webb
Ti Adoro jewelry
Tip Top Kids
Tommaso Cardullo by Galizia
Twilight Drawings
V
Van der Velde
Vanity
Voile Tendances / J-Picone, REVEL by Veil Trends
Vera Wang Married
Private Label Victor Harper
Via Della Spiga Milan
Wishes
O
Watters /WTOO/Willowby/by Watters
Wedding Dress Preservation Group
White gem design
WW Displays Inc.
Yes
Yoobtape
Yumi Katsura
Z
Zakaa Couture
Photo by Barrett Dennison/El Osito Films.
About us: Tess Mann is the fashion designer behind the Couture by Tess and Tess Mann Haute Couture wedding dress brands, as well as owning a brick-and-mortar wedding dress boutique in Cookeville, Tennessee, called Couture by Tess Bridal.
Contact information:
Name: Meredith Corning
Email: Send Email
Organization: Meredith Corning PR
Website: https://meredithcorningpr.com/
Video URL: https://youtu.be/yZyr3uCASSI
Build ID: 89080498
If you detect any issues, problems or errors in the content of this press release, please contact [email protected] to let us know. We will respond and rectify the situation within the next 8 hours.