Best luxury hotels in Biarritz 2022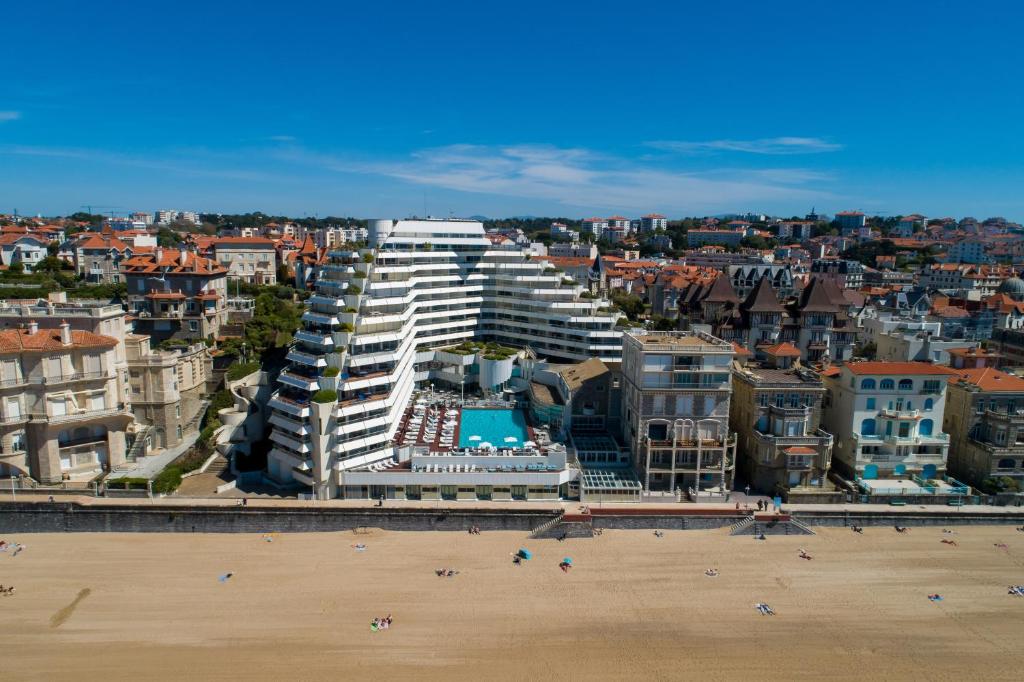 A favorite haunt of the royal family in the 19th century, this seaside resort in the Basque Country remains extremely popular, while being a popular surfing spot in the 21st century. La Grande Plage is the center of the bathing action, with golden sands and lifeguards watching over bathers during the summer months. Biarritz has one of the largest aquariums in Europe, spanning over 7,000 meters – including an 11-meter long Caribbean lagoon – and is well worth a visit. Its boulevards make meandering a pleasure and discover the lighthouse, as well as the dramatic setting of the Rocher de la Vierge (Vierge Marie du Rocher) statue at the end of a footbridge.
The Regina Biarritz Hotel & Spa – MGallery
On the promontory of Biarritz, sandwiched between a golf course and the sea, stands Le Régina. Opened in 1907, the architecture has an Art Deco bent, with classic modern interiors. A glamorous Riviera terrace features a seasonally heated pool, lounge chairs and a chic restaurant, serving fine French cuisine with many Basque specialties. Inside, there's a spa with steam and treatment rooms, 65 rooms, and a lobby bar — frequently hosting live music — that's just made for drinking champagne. Valet parking and a shuttle to the aforementioned golf club (one of the oldest in the country) are free, and the MGallery property frequently features art exhibits.
Sofitel Biarritz Le Miramar Thalassa Sea & Spa
During your stay at this Sofitel hotel, swim in a saltwater pool overlooking the sea and heated 12 months a year. The spa has a second infinite current pool, a solarium, a sauna, a Jacuzzi and treatments with Organic Research and Thalassa sea and skin products. Bistronomy-style cuisine is served at the Restaurant, including the Équilibre menu specializing in balanced dishes, as well as salt-free, gluten-free and children's menus. You can also dine at a poolside restaurant and have a drink at the bar. The 126 rooms of the Miramar have a soothing atmosphere, decorated with botanical motifs.
Hotel Du Palais Biarritz – In the Unbound Collection by Hyatt
Formerly a real palace, this imposing residence facing the Grande Plage was built on the orders of Napoleon III. It's as lavish in nature as it is in name, with high ceilings, antique artwork, ornate details, chandeliers, and regal furnishings. But floral prints, modern comforts like blackout shutters, and high-quality textiles ensure that the 153 rooms are also cozy. Facilities at this historic residence include the Guerlain Spa, indoor and outdoor pools, playground, open-air restaurant and the Michelin-starred silver-service restaurant Villa Eugénie (named after the wife for whom Napoleon had this property built).
Beaumanoir
It's only five minutes from the airport and Beaumanoir staff will send you a chauffeur-driven Rolls Royce to escort you to your suite in this neo-baroque mansion surrounded by lime trees. You will be tempted, almost immediately, to quench your thirst after the trip at the Dom Pérignon bar in the boutique hotel. You can also order a bite on site, whose menu offers specialties from the Basque Country. The building is almost a century and a half old and only houses four rooms, two suites and two apartments. A stay here is personal and intimate. Two outdoor seating areas and a pool with contemporary loungers offer plenty of opportunities to catch some rays.