Best Debt Consolidation Loans of June 2021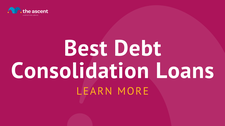 Personal loans for debt consolidation can be a great way to reach your financial goals, but they're not the only option for paying off your debt. Here are some alternatives to a debt consolidation loan:
Balance Transfer Credit Cards
A balance transfer card offers a promotional rate, such as 0% APR for a set period of time (typically 12-24 months). You apply online, give the new credit card company a list of the balances you want to transfer and wait for them to be answered. Transfer fees typically vary between 3% and 5% of the transferred balance. But beware: the card's interest rate will increase considerably as soon as the promotional period expires. You should plan to pay off the card in full by this date.
Home equity loans
If you owe less on your home than it's worth, that means you have equity and can borrow against it. If you are using a home equity loan for debt consolidation, you will need your mortgage lender instead of your other creditors (like credit cards). The interest rate can be lower on a home loan than on a credit card or personal loan. The danger is that you could lose your home if you miss payments.
401 (k) loans
While the best solution with a 401 (k) plan – or any retirement plan – is to leave it alone and let it grow, some plans allow borrowing. You don't have to worry about your credit score when borrowing from your 401 (k) as no credit check is required. A 401 (k) loan typically allows you to borrow 50% of your 401 (k) balance or $ 50,000, whichever is less (with a few exceptions). When you take out a 401 (k) loan, you pay yourself interest by putting your interest payments back into your retirement account. However, if you don't pay off the loan within five years, you'll have to pay income tax and a 10% penalty.