5 yachts of your dreams to enjoy the Côte d'Azur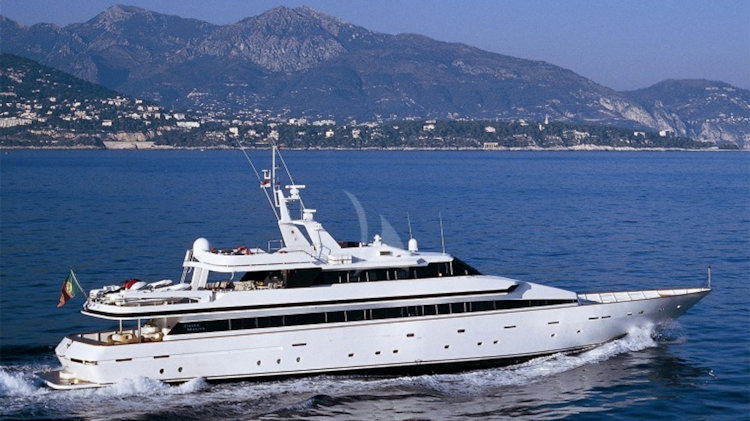 As summer approaches, you might want to visit the south of France. The French Riviera is one of the most beautiful places to visit in summer. With many beaches and always sunny weather, it is an unmissable region. To make the most of your trip, the must is to discover the magnificent landscapes of the Mediterranean Sea aboard a yacht.
With friends or family, for an afternoon or a week, there is bound to be a yacht that suits you, Prestige Yachting offers you the possibility of renting a boat directly from your phone. With nearly 50 yachts available, you are sure to find what you are looking for and enjoy the Côte d'Azur. Here is a selection of 5 of them:
Large yachts:

1. Costa Magna
The Proteksan 146 offers you a sensational moment with absolute comfort. This boat combines elegance, refinement and prestige for a luxury cruise. The jacuzzi is at your disposal to relax and simply enjoy the beauty of the landscapes of the Côte d'Azur! Ideal for a long group trip.
44 meters long, the Costa Magna can accommodate up to 42 visitors and has enough facilities for 10 people to sleep on site. With 5 cabins, a bathroom, a dinette and numerous sofas and sunbeds, you won't regret it!
The 9-member crew is at your service and offers you a variety of food, drink and alcohol options to choose from a menu directly when booking. Bonus: this yacht offers the option of requesting limo transfers during your stay.
2. Milky Way

Seductive and powerful, Milky Way is an unrivaled open cruiser of consummate verve and sporty panache, thanks to unique and ingenious design features. It is a fabulous summary of all the qualities that have placed Riva at the top of the yachting world.
It is perfect for holidays on the waves and to savor the Riva legend during unforgettable day cruises on the French Riviera, from Monaco to Saint-Tropez via Nice and Cannes.
Born in 2019 and refitted in 2020, the Milky Way is a very modern boat that can accommodate 12 people on board. With 2 cabins and 2 large beds, four people can sleep on board to enjoy a multi-day trip.
3.888

The 888 regenerates the concept of the sport-cruiser and offers as much pleasure to the eye as to the driver. It is a boat of harmony with perfectly organized interiors and very neat finishes.
Particularly spacious and organized in an original way, the cockpit can accommodate up to 11 people, ideal for a day charter on a yacht with friends or family to sail on the beautiful Côte d'Azur.
You can sunbathe on the bow, go swimming in the middle of the blue sea and relax with a glass of champagne. This yacht also offers a variety of food, drink and alcohol options to choose from a menu directly when booking.
Small yachts:
4. Black lobster

The Leader 36 offers you a modern and pretty decoration with a perfectly arranged outdoor space. There is a relaxation cabin where you can send a moment of rest. The perfect boat if you want to discover the south of France in a soothing and pleasant environment for two or nine.
The Black Lobster was born in 2019 and can reach 25 knots. It is a modern boat that will delight all lovers of the sea for a day or a weekend. Like the Costa Magna, you can order a variety of food, drink, and alcohol options and request a limousine transfer during your stay.
5. Sofia

15.2 meters, spacious and comfortable, the Prestige 500 is the ideal yacht for holidays with friends or family.
There are 4 cabins on board: two double cabins and two single cabins, all four are very spacious and combine elegance and comfort. The whole boat is tastefully decorated and is fully equipped.
You will live a perfect moment enjoying the turquoise waters of the Mediterranean Sea and discovering the Côte d'Azur region.
Relax on the roof or sunbathe on the bow, Le Sofia is the perfect boat to feel free in the middle of beautiful landscapes.